---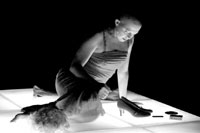 17.11.04 | 18:00 | Schauspielhaus (Studio)
A KIND OF FEMME FATALE - Israel
By Yitzhak Ben-Ner
With: Gili Ben Ozilio
Directed and adapted by: Issi Mamanov
Stage design: Mihaela Lika
Light: Asi Gotesman
Music and video: Dudik Openheim
Co'creator: Nir Turk
Duration: approx. 70 min.
Language: Hebrew, with English subtitles
In City of Refuge, Yitzhak Ben-Ner paints a cruel portrait of Israeli society, which is threatened by some vague catastrophe. The novel consists of seven fascinating monologues, each one the story of an individual living in Tel Aviv, the city of refuge alluded to in the title. These are lonely, often bizarre people with bleak lives, suffering from neglect and from insatiable yearning.
Issi Mamanov's piece is a prize-winning adaptation of one of the monologues. Its protagonist is the 27-year-old Mali, a cancer-afflicted man-hunter who takes sadistic pleasure in informing all her imagined sex partners that she is HIV-positive. She is alone in her hospital room (which she calls her "private hospice") and imagines seducing all those strangers only to let them know afterwards about her illness – their reaction is quite aggressive. As the piece is progressing, Mali changes from the terminally ill person into a beautiful woman – "a kind of femme fatale" – who is not afraid of her fate any more.
The performance combines the means of traditional theatre and the video art.