---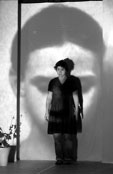 16.11.04 | 20:00 | Pumpe
GRETE - Germany
Based on J. W. Goethe's Faust
With: Claudia Wiedemer
Director: Anja Gronau
Cooperation: Marcel Luxinger
Produced by: Michael Mans
Duration: approx. 60 min.
Language: German
Everybody knows the typical German Gretchen – she has blond pigtails and keeps whispering silly verses: is she but a victim of male recklessness? Anja Gronau and Claudia Wiedemer devoted a whole evening to Gretchen – without Faust.
To fail and be destroyed, to unconditionally do what has to be done – Gretchen acts according to this theory of absoluteness. The possibilities and the suitability of this female figure in today's reality are being examined. Has Gretchen, this creature oscillating between submission and rebellion, anything important to tell us (assuming we manage to ignore the clichés about her)?
With GRETE, the director Anja Gronau and the actress Claudia Wiedemer completed their trilogy about women from the classical German theatre repertoire: KAETHE (Kleist), JOHANNA (Schiller), and GRETE. Kaethe of Heilbronn, Joan of Orleans and Grete from a small German town are three teen-age girls with an all-or-nothing attitude, driven by their eagerness and youthful passion. Which is of enormous consequence for their future…
GRETE had its premiere in June 2004 in Berlin (in Theater unterm Dach).
It was nominated for the Friedrich Luft Award 2004.