---
12.11.04 – | 19:00 | Schauspielhaus (big stage)
Official Opening of the Festival
The evening will be traditionally hosted by the Kiel actor, Hans-Christian Hoth.
Opening Performance at 20:00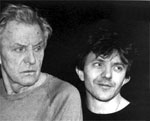 HYPERION – Germany/Switzerland
By: Friedrich Hölderlin
DESCRIPTION OF A PICTURE – Germany
By: Heiner Müller
With: Heinz und David Bennent
Duration: approx. 2 hours
Language: German
Both Bennents are famous actors and each of them goes his own way. But now and then father and son meet to work on a common project.
Hölderlin and Müller are German poets separated by 200 years in which several Utopian systems were born and abandoned, and illusions repeatedly got lost. But the two poets are brothers in mind: the compelling power of their language, their radical views on "ultimate questions" and their desperate clairvoyance fill their works with pain and beauty.
Heinz Bennent lives with "his" Hölderlin and quotes him every day. Hyperion's letters from Greece – with the realization of the world's dissonances, the longing for a union with nature, the radical opinions about Germany – present views that are frighteningly up-to-date.
David Bennent lends breath, structure and fascination to Müller's feverish fantasies, in which mythical images from ancient Greece are combined with the author's powerful visions of the battle of the sexes and overall destruction.
HYPERION / DESCRIPTION OF A PICTURE will be also performed on 13.11.2004 at 20:00 in Schauspielhaus
This performance is not part of the competition.
---