---
13.11.04 | 20:30 | Pumpe
A BAT IN THE ATTIC - Iceland
By and with: Vala Thorsdóttir
Icelandic Take Away Theatre & Coffeetheatre Production
Duration: approx. 70 min.
Language: English and Icelandic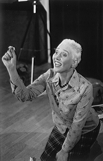 A Bat in the Attic was written and is played by Vala Thorsdóttir. She researched the illness for six months before she wrote the piece; the monologue is a tribute to everyone who has been diagnosed as manic-depressive.
In the show, the audience gets to know Karitas, a young manic-depressive woman who is trying her best to cope with her life. She is a survivor who refuses to give in, however much it takes. The monologue jumps in time and space and the audience can watch Karitas in different situations.
The style of the performance draws on a mixture of approaches and the final result is a black comedy of the most manic variety.
A Bat in the Attic was on the agenda of the Reykjavik Cultural capital 2000 program.
As a result of getting the first prize at the European Women´s theatre festival in Finland, A Bat in the Attic was published and staged in Turkey.